THE WINEMAKER
ANGEL MARCHANT
Ángel Marchant has been a winemaker at the winery since 2007, but has been connected to wine and vineyards his whole life. His father was a winery supervisor, and Ángel grew up surrounded by barrels and vineyards. He began his career at Viña Concha y Toro and later participated in two harvests at Viña Ventisquero with Felipe Tosso. He left the wine industry for a time to work with Universidad de Concepción on projects involving medicinal plants for small-scale producers in the Itata Valley.
He later worked with various Chilean wineries and then pursued opportunities in the United States and Spain. His experience with international wineries includes the time that he spent at the Flowers Vineyard and Winery in Cazadero, Sonoma Valley and Bodegas Borsao in Tabuenca, near Zaragoza in Spain. In 2023, Ángel was named to the Drinks Business Magazine's "Master Winemaker 100".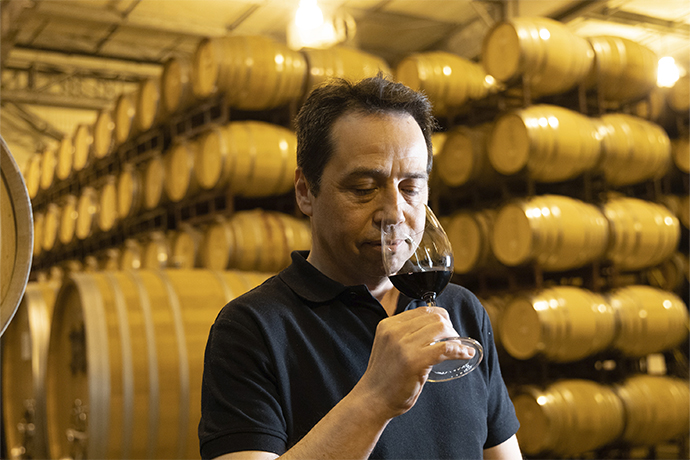 Root:1 Story
Don Gonzalo Vial is a self-made man whose success story began with his family's farm in rural Rancagua in 1955. Inspired by his passion for grapevines and his father's love for the land and agriculture, he launched a new project, a winery honoring Chile's origins in its processes and wines. In 1998, they planted the first vines at the Trinidad property in the coastal part of the Maipo Valley, where the new winery was built: Ventisquero Wine Estates.
Founded in 1980, Winebow is a national importer and distributor offering a dynamic portfolio of fine wine and spirits worldwide. It represents some of the most established, family-owned properties and a new generation of winemakers like Root:1 who are dedicated to innovation and quality. As co-owners of Root:1, Winebow and Ventisquero Wine Estates work closely to bring the global market an exciting and innovative brand that speaks to the unique terroir of Chile through modern, approachable, and sustainable wines.
Root:1's vineyards are located in Chile's leading wine-producing regions: Maipo, Casablanca, and Colchagua. Harvest after harvest, the vineyards have grown and matured to deliver estate-bottled wines with character and class. As pioneers in sustainability, the winery received the country's first ever "Certified Sustainable" designation from Wines of Chile.